David Lloyd -

Drums, Lead Vocals, Guitar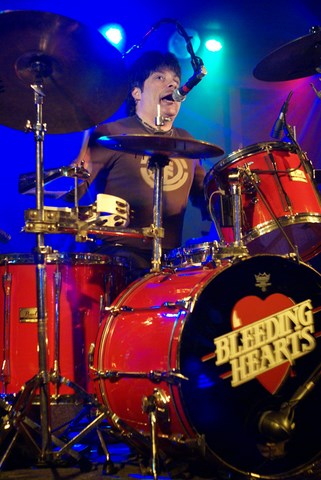 David Lloyd was born and raised in Buffalo, New York. He comes from a very talented musical family, they all play various instruments or are singers. Being a product of this environment, David absorbed many different musical styles like a sponge. He got his first drum kit on Christmas at the tender age of five. After hearing the Beatles something magical had happened. He has been performing ever since. He attended P.S. # 19 and performed in the schools talent shows- starting in grade 3, then in 5 th, 6th & 8 th grade - sharing the stage with Frankie & Christine Scinta of The Scintas who also attended P.S. # 19 and are now a hugely successful Las Vegas act.
By age 11, David was sitting in with his dad Denny's band. Denny was very proud and enjoyed exploiting his sons talent. His dad would also bring him around town to sit in with various Buffalo legendary musicians, such as Stan Szelest, Ernie Corello, Joey Gerono, & Spoon from the House Rockers. This really helped to cut his musical teeth and pay his dues at such a young age. The experience was priceless.
David formed his first group at age 14 with dear friend Bob Bucella on bass & Rick Gross on guitar. First calling them selves Alkaloid, then Spanish Fly & finally settling on Trilogy (George Gergoff replacing Gross on guitar).Trilogy played every possible gig they could get there hands on such as house parties, graduation parties, lawn fetes, etc. Finally landing a spot at Buffalo's infamous McVans. This being a major feat for a bunch of underage rockers.
Now 17 years old, David Lloyd left Trilogy to join the Beatle tribute band The Keys. (Manny Campos- guitar, Ronny Greco- bass & Joe Perez -guitar). David's dead on rendition of Ringo's playing was an integral part of the band. The Keys have the dubious distinction of being one of the first bands to win a Buffalo Music Award 1981 (the first year of the awards).
In 1982 while on vacation in Arizona, Lloyd was asked to join Buffalo bad boys The Bees who had just relocated to Florida. They flew him in and with in two nights he was playing out on the Fort Lauderdale scene with the group. After talking the band into coming back to Buffalo they parted ways two months later.
After tiring of the cover scene David was recommended by a friend to join the original band The Moment - with Jim Redden- guitar; Jimmer Philips - bass; & Jon Simon guitar; - they recorded a four song demo with Terry Sullivan & Guy Polino producing. They also recorded songs with Kent Weber at the helm. Lloyd left after a few months.
In 1983 David joined all original band The Throbs. The line- up included Pauline Digatti - vocals; Adam Gearing- guitar; Kevin Henneman- guitar; & Dan Patrick- bass. Internal strife led to Henneman, Patrick & Lloyd leaving to start a new band.
The Western Voice was born in 1984. The group recorded a 15 song demo at Tommy Calandra's legendary BCMK Studio. These demos (co- produced by E.M. Brydalski) aroused the interest of A&M Records & producer Mitch Easter of REM fame. Soon the band was showcasing in New York City playing at CBGBS, The Peppermint Lounge & other venues. The band was received well but the record company dragged their feet and failed to sign the group.
As a side project to generate more funds to record, David, Dan & Kevin started a cover group called The Skiffle Band around 1986. Dan Partick moved to New York City. Henneman & Lloyd carried on recruiting Bryan Berhalter on bass. Henneman moved to New York in '87. David hired Bill Holihan to replace Kevin.
On Valentine's Day 1989 David Lloyd wiped the slate clean and debut his new group The Bleeding Hearts. For the past 28 years Bleeding Hearts have been one of the most popular and well loved bands in Buffalo & Western New York area. David has had luxury and pleasure to have some of the area's most talented players do long term or short stints in the Hearts such as : Bryan Berhalter, Dave Tube Hens, Bob Kupczak, Bill Holihan, Mike Carroll, Nino Catanzaro, Bob Bucella, Brian Kindzierski, Phil Woloszyn, Bob Jacobson, Rick McGirr, Mat Geltz , Bill Texido & Tony Blasting.
As Leader, Drummer, Lead vocalist & Acoustic Guitarist David Lloyd & Bleeding Hearts have been recognized and honored 5 times by The Buffalo Music Awards. Winning top Rock / Alternative group & top Group Vocals in 1996, top Group Vocals in 1997. As well as best Classic Rock Band in 1995. David won for Pop Rock Drummer in 1991.
In 1991 the group released a self-titled EP. The EP sold out both pressings, developed some record company interests, but lost steam after the departure of original member bassists & vocalist Bryan Berhalter. 1995 saw the release of the single "Be with me" penned by Lloyd. The song was a crowd favorite and again, sold out both pressings locally.
Through the last 28 years of gigging David has opened for many national acts - most notably: Steppenwolf, Rick Derringer, Guess Who, Modern English, David Johansen, The Outlaws, Beatlemaina, Michael Bolton, & Neil Sedaka.
Besides recording with the Moment, Western Voice & Bleeding Hearts David has played on projects with solo artists Terry Gearts (from Dobie Royal), Tim Haze & The Rain. He also records & demos his own material and wrote and produced a soundtrack for a local hunting video.
David claims Ringo Starr, Charlie Watts, Hal Blaine, Keith Moon & John Bonham as direct influences on his drumming style. David Lloyd lives to be on stage and is extremely passionate about performing. With an endless source of energy as well as an infectious stage presence, Lloyd is one of the most dynamic players you'll ever witness. He has the uncanny knack of emulating most singers and has a solid, straight ahead, no frills drumming style with flawless meter. David is also known for his off beat, witty sense of humor.
David Lloyd continues to perform 125 plus dates a year with Bleeding Hearts and looks forward to another 28 plus years of performing.
Fast Facts

- Played drums in Lafayette High School Band
- Plays solo acoustic gigs
- Studied drums with Jack Schilling & Louie Marino
- David has played over 4000 gigs